Yeah, I signed up. Mostly to see where I got sorted. (RAVENCLAW, bitches. Just as I always believed~) Username is PumpkinFelicis12497 if you wanna add me.
Also I have the hippiest wand ever.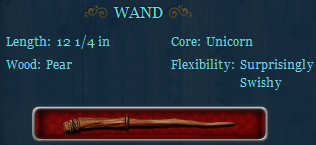 Pear
This golden-toned wood produces wands of splendid magical powers, which give of their best in the hands of the warm-hearted, the generous and the wise. Possessors of pear wands are, in my experience, usually popular and well-respected. I do not know of a single instance where a pear wand has been discovered in the possession of a Dark witch or wizard. Pear wands are among the most resilient, and I have often observed that they may still present a remarkable appearance of newness, even after many years of hard use.
Unicorn
Unicorn hair generally produces the most consistent magic, and is least subject to fluctuations and blockages. Wands with unicorn cores are generally the most difficult to turn to the Dark Arts. They are the most faithful of all wands, and usually remain strongly attached to their first owner, irrespective of whether he or she was an accomplished witch or wizard.

Minor disadvantages of unicorn hair are that they do not make the most powerful wands (although the wand wood may compensate) and that they are prone to melancholy if seriously mishandled, meaning that the hair may 'die' and need replacing.